Exclusive Full Planning
EXPERIENCE THE JOY OF WEDDING PLANNING
Clients booking this service typically have wedding budgets that range from $75,000 to $250,000
Getting engaged is an eagerly anticipated and incredibly exciting day!! It should not stop there, we believe the wedding planning process should be enjoyable and dare we say even fun! Exclusive Wedding Planning is ideal for you if you are a busy professional, out of town couple, or bride looking to simply make the decisions and have us execute the details. Time is precious! Your Wedding Planner exclusively plans your wedding and we do not take any other couples wedding that day. She works with you right from the beginning of the process, creating a budget, scouting locations, drawing up time lines, and providing customised vendor selections that fit your style and budget. She will help you work through each of the planning stages to make it manageable and enjoyable.
Mountain Bride will be the primary contact for all of your vendors involved and manage the entire planning process. Most importantly we will help you create a gorgeous wedding atmosphere; fabulous decor, amazing food, rockin' entertainment.
This is a huge event in your life and so much of the magic of your wedding day comes down to carefully thought out details that reflect you and your fiancé. We want this to be an incredible day for you. Your Wedding Planner will handle issues that come up through your planning process and on your wedding day to ensure that plans flow smoothly.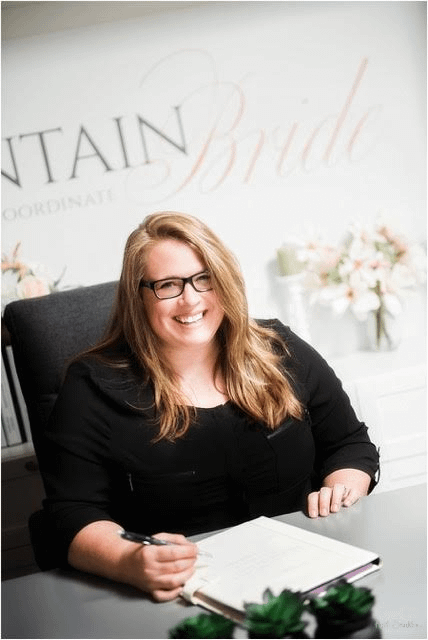 WORK WITH ME
We are so fortunate to work with incredibly talented Photographers and they have generously allowed Mountain Bride to use their images.
Booking & Availability
If you are considering Mountain Bride for your wedding day or would like to find out more about how we can be a great fit, then please get in touch as we would love to hear your vision and assist you in bringing it to life.
EXCLUSIVITY
We accept only a limited number of clients each year. Please contact us to set up a complimentary Initial Meeting to discuss your needs and to start building a great relationship.